The SAFEJAWZ x REORG Special Edition mouthguard is here!
For every sale of the special edition guard, we will be donating £10 to the REORG Jiu Jitsu Foundation.
In association with The Royal Marines Charity, REORG provide a platform for serving personnel and veterans to learn Brazilian Jiu Jitsu, as part of their recovery pathway and to combat the challenge of mental health and physical disabilities. It is a collaboration that we're very proud of as big fans of BJJ and the REORG foundation here at SAFEJAWZ HQ.
Custom Fit Mouthguards are recommended for all athletes who take their sport seriously. A dental impression is taken of the wearer's teeth using our simple SAFEJAWZ Impression System that you can use yourself at home. When you order this product, we will initially send out our Impression Kit which you will post back to us in the freepost bag provided.
NO MORE DENTISTS! - which means you also save up to 70% of the cost.
The basic colour range offers the best value of our custom-fit guards and are available in a wide range of colours.
DISCLAIMER: Please note that our custom-fit mouthguards are not suitable for children aged 9 or below or for people with orthodontic or bridgework. We do accept recent impressions taken by dentists however. View full conditions and details about the process here.
Please note: as different screens and devices display colours differently, the shade of this product may change just slightly. The design might also distort slightly as per the individuals dental arrangement.
Order your Custom Series mouthguard and we'll post out our dental impression kit for your to take at home. It only takes 10 minutes!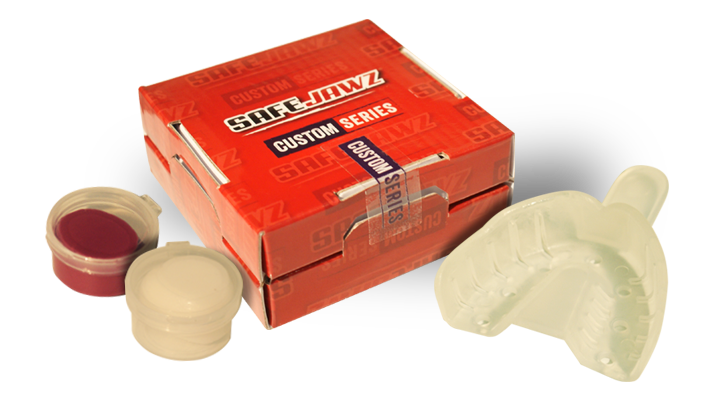 Using the Freepost bag provided, post your impression back to our lab.
Our lab technicians will make your mouthguard by hand within 10 working days.

We offer a PERFECT FIT GUARANTEE on all our mouthguards. If you are not happy with the comfort, fit and/or retention (how well it stays in the mouth) we can help you adjust the guard until it fits perfectly, or we will re-make the mouthguard.
FULL CONTACT: Our Full-Contact mouthguards are recommended for sports where the head is an intentional target, sticks are used or regular head impacts are expected. Rugby Union, Rugby League, Field Hockey, Ice Hockey, Mixed Martial Arts (MMA), Boxing, Lacrosse and Kickboxing.
SEMI CONTACT: The Semi-Contact Custom-Fit Mouth Guards are slightly thinner than the full contact version, and are suitable for sports where there is not as much danger of oral injury and therefore a small amount of protection can be compromised for greater comfort. We recommend our Semi-Contact Mouthguards for the following sports; BMX, Water Polo, Football, Gaelic Football, Skiing, Basketball, Skateboarding.